Getting to and around Krabi
To get around in Krabi especially in the area of Aonang is easy. Below lies the means of transportation on offer getting to and getting around Krabi:

Both getting to and getting around Krabi is quite easy. Visitors to Krabi may arrive by air, bus, car, or boat from destinations both north and south of Krabi, as well as from Phuket and Phang Nga provinces to the west of Krabi.

Taxis, songtaews, and tuk-tuks are easily found in both Krabi town and Ao Nang and are reasonably priced for those who wish to explore the nearby attractions, though visitors may also rent cars, motorbikes, and even bicycles to tour the area on their own.

The only way to get to Ao Nang Cape, including East and West Railey and Phra Nang Beach, is via boat from Krabi Town, Ao Nang, Koh Phi Phi, or Koh Lanta. There are no roads leading to or around Ao Nang Cape, which can only be explored by foot or kayak.

By Train
There is no train service to Krabi. The nearest train stations are in Surat Thani and Trang, where visitors can transfer to busses to Krabi.

By Bus
There are both government run air-conditioned and non air-conditioned busses that connect Bangkok, Phuket, Phang Nga, Trang, Hat Yai, and Surat Thani (Samui) to Krabi Bus Terminal. The bus from Bangkok's Southern Bus Terminal to Krabi takes approximately 12 hours.

In addition to these busses, many private bus companies and travel agencies provide air-conditioned busses or vans to and from Krabi and these other provinces.

Bus-boat packages between Krabi and Koh Samui should take no more than three hours, though some unscrupulous private bus companies have made this a lengthy ordeal in order to rip off passengers and their stored baggage. There is a more reliable government run bus service between Krabi and Surat Thani which requires bus or tuk tuk transfer to or from the pier that services Koh Samui.

There is a regular shuttle bus service between Krabi and Phuket airports, which are roughly 2 hours apart.

Krabi Bus Terminal is located 4 kilometers north of town at Talat Kao. For schedules and additional information contact the Krabi Bus Terminal at (66) 0 7561 1804

By Air
The Krabi International Airport (KBV) is about 10 km from the city limits, 15 km from the city center, and 40km from Ao Nang. Krabi is serviced by Thai Airways from Bangkok, Bangkok Airways from Koh Samui, and Thai AirAsia from both Bangkok and Kuala Lumpur.

Getting around Krabi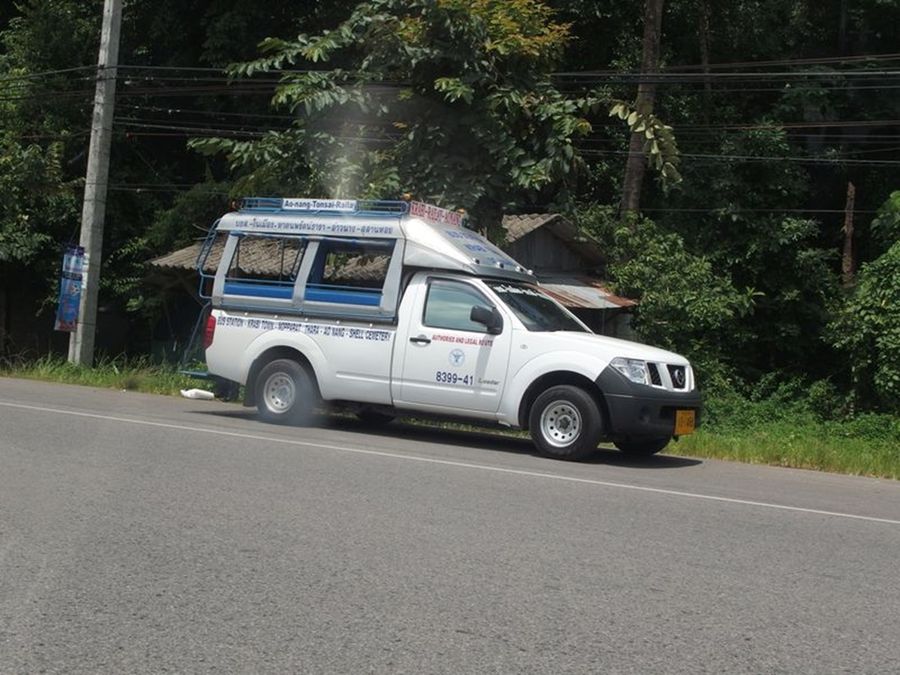 By Bus:
From Krabi Bus Terminal, located in Talat Kao, buses arrive and depart between 6.00 a.m. and 5.00 p.m. Local red buses into and around Krabi town costs 10 baht per ride. For travel to Ao Nang and Haad Noppharat Thara, local white buses leave from Maharat Road in Krabi town and cost 20 baht per journey.

An air conditioned Airport Bus service connects the airport to Krabi town and Ao Nang for approximately 90 and150 baht respectively.

By songtaew (Mini-bus):
Songtaew rides from Krabi town to the Krabi Bus Terminal cost around 10 baht per person. From Krabi Town most Songtaews hang out in front of the 7-11 on Maharat Road. Destinations and approximate fares include Ao Leuk (20 baht), Ao Nam Mao (40 baht), Ao Nang (20 baht), Haad Noppharat Thara (20 baht) and Su San Hoi-Shell Cemetery (40 baht). In Ao Nang songtaews travel up and down the beach road and passengers can get on and off at any point along the route for a fixed rate that should be agreed upon before climbing aboard.

By Tuk Tuk:

Tuk tuks can be chartered for trips around Krabi town and Ao Nang for flat rates that should be negotiated and agreed upon prior to travel.

Car and motorbike rental:

It is possible to rent a car in Krabi Town or from Krabi Airport to travel around town and to nearby provinces. In addition to international car rental companies, such as National Car Rental and Budget Car Rental, several private agencies and guesthouses provide car and motorcycle rental for 800-1,200 baht/day and 150-250 baht/day respectively.

Be aware that only Commercial First Class Insurance provides full coverage on rental cars (as opposed to limited personal or third party only insurance). Most international car rental agencies will offer this insurance (some only for those with a valid international driver's license) while local companies may or may not. You may wish to request a copy of their insurance policy and ensure that it states "For Commercial Use". Regardless, inspect rental vehicles prior to rental and drive with caution, particularly as traffic in Thailand can be quite confusing, especially the habit of Thai motorcycles drivers to drive on the wrong side of the road.

Be sure to inspect motorbikes prior to rental and drive with extreme caution as rental motorbikes are not normally insured and accidents are frequent. Helmets are required by Thai law.

By Boat:
Long-tailed boats depart regularly from Krabi's Saphan Jao Fah Pier to East Railey Beach while boats from Ao Nang serve West Railey Beach with frequency.

By Taxi:

Motorcycle taxis are available at Krabi airport and around Krabi town.

Krabi Limousine has a desk inside the Krabi Airport and provides "limousine taxi" (using large air-conditioned sedans) transport to Krabi town for around 500 baht; Ao Nang for 800 baht; and Phuket for 2500 baht.

Credit: http://www.tourismthailand.org/Krabi

Transfers
Airport transfers to and from Krabi International Airport can be done in different ways. Please follow the following link to find more information.
https://www.yourkrabi.com/krabi-airport
Aonang Villa Resort also offers airport transfers as shown below:
Hotel Transfer:
-Van Capacity maximum 6 seats / van THB 700.- net per van/way
- Coach Capacity maximum 45 seats/coach THB 8,500.- net per coach/way
Please contact the hotel directly for hotel transfer.