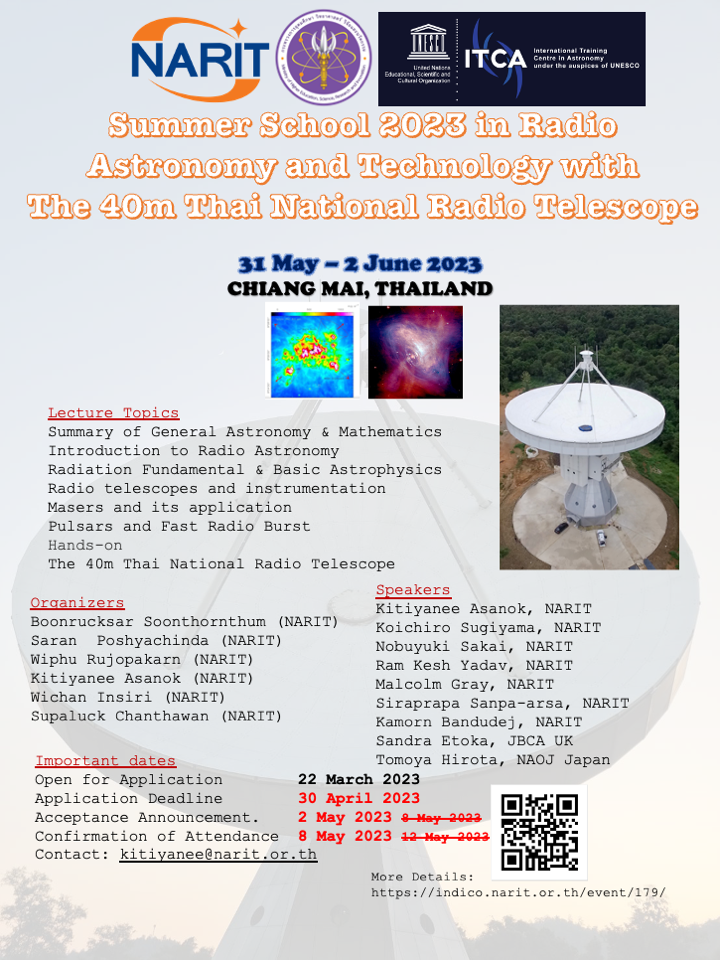 The National Astronomical Research Institute of Thailand (NARIT) would like to invite the applicants to join the Summer School 2023 in Radio Astronomy and Technology with the 40m Thai National Radio Telescope, which will be held from May 31 to June 2, 2023, at Chiang Mai, Thailand.
Objective:
Human power is an essential resource, particularly for sustainable development in science and technology. The 40m Thai National Radio Telescope (TNRT) is an upcoming project that will play a crucial role in radio astronomy research not only in Thailand but also in around countries. This development will bring about a promising future for radio astronomy research in the region. The primary objective of this school is to inspire students in science, engineering, and other related fields who are keen on radio astronomy and technology, especially in the context of the recent update on the 40m TNRT. The school aims to encourage students to exchange ideas and work on mini-projects or undergraduate/master projects. The school will feature lectures focused on radio interferometry theory and techniques and hands-on tutorials demonstrating radio data analysis.

Venue:
Novotel Chiang Mai Nimman Journeyhub, Thailand
Accommodation:
NARIT shall cover accommodation for participants in shared-rooms (with another participant). The accommodation will be provided for 4 nights from May 30 (check-in) through June 3 (check-out), 2023. You will need to cover the cost of your own accommodation if you plan to bring companions or if you prefer to stay in a non-shared room. Please contact the organizer if you need help arranging for your hotel in Chiang Mai. The accommodation for students is at ibis Chiang Mai Nimman Journeyhub. You could walk from the accommodation to the venue place.
Travel:
Chiang Mai is located in northern Thailand about 700 km north of Bangkok, the capital of Thailand. Many Asian countries have direct flights to Chiang Mai Airport (CNX). There are direct flights to Chiang Mai from several cities in Southeast Asia and a few other countries. Otherwise, you may need to change your flight at Bangkok Suvarnabhumi Airport (BKK) or at Bangkok Don Mueang Airport (DMK). Flights between Bangkok and Chiang Mai take of about one hour. Alternatively, bus and overnight trains are also available with a travel time of 10-12 hours.

Who can apply:
The school is aimed at the 3rd – the 4th year of undergrad, the 1st year of master students in Physics, Mathematics, computer science, chemistry, engineering or related fields, and also the lecturer staff or NARIT staff who have a keen interest in radio astronomy and want to use the 40m TNRT for their research. Candidates from outside Thailand may also apply.

Visa:
Citizens of 19 countries can obtain visas upon arrival in Bangkok or Chiang Mai that will remain valid for the duration of the school. Moreover, citizens from 55 countries can get visa-free entry as tourists. Please visit Thai embassy website to know which category you belong to. Participants from other countries need to obtain a visa to enter in Thailand. If you require an official invitation letter for the visa application please send us copy of your passport, Institute/University you are affiliated to, your address, and title (Ms., Mr., Dr. etc.) at kitiyanee@narit.or.th with the subject "invitation letter for visa application". For more information about Thai visas please contact the nearest Thai Embassy in the country of your residence.
Financial support:
All participants will receive financial assistance for local expenses and travel within the country. However, the amount of support provided should not exceed 2,500 THB per person. Please note that NARIT will not cover international flights or travel expenses incurred outside the country. Please ask your institutions for supporting your budget.
Last date for accepting applications and reference letters is 30 April 2023.
Candidate selection: 12 2 May 2023
Reimbursement process:
1) a copy of your passport (in the case of foreigners)
2) a copy of your Thai ID citizen card
3) the receipts of travelling tickets
3.1) a round trip from your hometown to Chiangmai *only in Thailand (air flight/bus/train) e.g., BKK-CNX & CNX-BKK or KKC-CNX & CNX-KKC etc.
3.2) a taxi/mini-bus(red songtaew)/grab only a round trip from the Ibis Chiangmai Nimman Journeyhub to the bus station/the airport/train station
4) tickets or boarding pass
The total amount should not exceed 2,500 THB (~72-73 $).
Insurance:
NARIT will not provide any means of insurance for participants of the school. Participants should arrange for their own international travel insurance before coming to Thailand

How to apply:
The participants should apply online by visiting Click here for registration. Students will need to arrange for a reference letter from their supervisors to be sent by email directly to kitiyanee@narit.or.th.

For queries contact kitiyanee@narit.or.th.